Fly fisher(wo)men everywhere are mourning the loss of a cherished piece of equipment: their felt-soled waders. All too often now, clinging to the felt fibers are the tenacious strands of Didymosphenia geminata (did-em-o-sfeen'-ee-a jem-i-na'-ta), or, for the rest of us, rock snot.
The stuff looks like pre-owned toilet paper and apparently feels like wet cotton, and it's slowly taking over the freshwater streams of the temperate world, smothering fish, insects, and other aquatic life. It spreads by hitchhiking on the gear of flyfishers, challenging slime molds, dandelions, and jellyfish for the non-human Plans for World Domination Cup. You can read all the gory details in New York Times articles here and here. But hidden inside that slimy brown mass is a work of remarkable beauty.
This.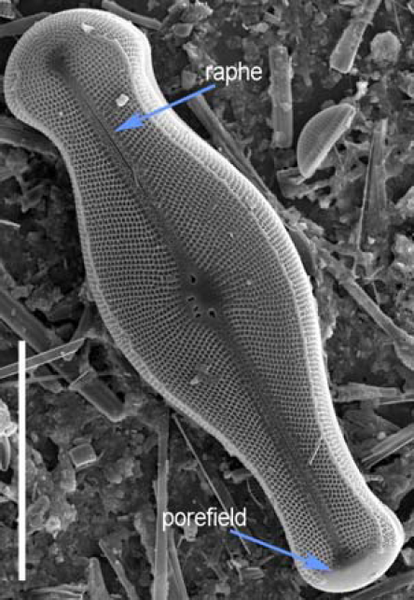 With the lines of a Stradivarius and the detailing of a Fabergé egg, this baby is a microscopic work of art. If only its macroscopic manifestations could be so beautiful. As you may have guessed, it is a diatom (as covered here), a microscopic glass house (literally (littorally?) made of silicon dioxide) enclosing a little photosynthesizing alga.
At left you see two interesting features: The two long slits, or raphes, through which the diatom can secrete mucilage (aka slime) with which it slides over surfaces, and the porefield, through which it can secrete a mucopolysaccharide (aka slime) stalk that attaches it to a surface. The secretion and aggregation of these stalks is what causes the brown mess of rock snot, not the beautiful fiddle-like head.
In beauty, destruction. In destruction, beauty. This particular destruction brought to you by the otherwise largely upstanding diatoms, conveniently located in this sector of the tree of life. For all the scientific, er, dirt, on rock snot, including a beautiful scanning electron micrograph of the trouble-causing stalks, check out this EPA White Paper.