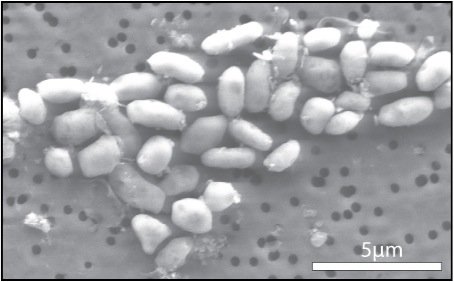 I have kept silent on last week's announced discovery of bacteria from Mono Lake, California, alleged to be able to grow using arsenic instead of phosphorus — until now. I was reading a news analysis on the subject of the improved odds for life given this and other recent discoveries in biology and astronomy in my morning paper and stumbled on this intriguing allegation:
Another reason not to get too excited is that the search for life starts small – microscopically small – and then looks to evolution for more. The first signs of life elsewhere are more likely to be closer to slime mold than to ET. It can evolve from there.
I'm not sure whether to take that as in insult to an incredibly evolved and highly complex life form or not. Hey — how many protists do *you* know that can learn to anticipate regularly timed stimuli, drive robots, solve mazes, and plan high-speed rail routes? Nonetheless, I do get his point — that if we do find life, it's not likely to have made it much past the basics of cell, membrane, and genetic code. Which got me thinking about something that's bothered me for a while.
I have been to Mono Lake (pronounced "moe'-noe"), and it is truly an unearthly place. I can see why one might search there for  — as they put it on Wait, Wait Don't Tell Me this week — yet another alternative lifestyle in California. I know the basics of the chemistry involved, but I don't know enough to know — as has been claimed by several critics — whether what the scientists have found is highly dubious. According to Carl Zimmer's roster of experts, it's all but impossible the authors of this paper performed good science with valid conclusions, although it's not impossible arsenic-based life exists. (Aside: One of the authors, Felisa Wolfe-Simon, named the bacterial strain GFAJ-1 for "Give Felisa a Job". Although I normally 100% support such creative naming efforts (scientists are usually dull as dirt when it comes to naming things, and why not name things creatively? One classic example: a development gene named hedgehog inspired the name of a related gene: "sonic hedgehog"), in light of recent events, Felisa's probably regretting that now.)
But here's what bothers me about the leap people make whenever they find bacteria that can eat arsenic or live in boiling acid or leap tall buildings in a single bound: that finding extreme life here on Earth makes finding it on other planets more likely. I'm not an astrobiologist, but claims of this sort have always irritated me. They make similar claims because we find life in all sorts of high-wire places on Earth: miles beneath the surface in microscopic rock crevices and pores, in freezing Antarctica, in salt flats, in hot springs, and in barren wastelands of all sorts that support nothing else.
But to me, that misses the point. As far as we know, Earth has, almost from the beginning, hosted a warm, cushy, UV-shielding, stable-chemistry-and-solvent-providing ocean. Almost from the beginning. Granted, the Late Heavy Bombardment could have boiled the oceans away temporarily, but that was a blip. Our atmosphere has gone through at least two great gas revolutions, and the land, initially unprotected by a thick atmosphere or an ozone layer, was a UV-scorched, life-shriveling place. But deep beneath the waves there was always a place of refuge for life to start, to begin, to evolve. In other words, Earth had a cradle where life could begin in relative safety and consistency.
After life evolved in this watery nursery, in which there was no time pressure and plenty of space to work out the basics, gain strength and, one might even say, genetic confidence, it had plenty of additional time — billions of years — to branch out, explore, and master the extreme environments of Earth. Bacteria and archaea may have even been forced into those extreme niches because of competition for the easy life elsewhere.
But what about planets with extreme chemistry or biology that never had a safe ocean; or, had an ocean, but, probably like Mars, had one only fleetingly? Would life have found it easy to begin or have time to take hold in such a forbidding place? Some planets and moons host methane oceans, and Europa may have its own water ocean beneath its icy crust. In those places I might be convinced life could evolve. And there are some life-origin theories that do not require oceans.
But personally, I put my money on the sea. And for the vast majority of places, evidence of extreme microbes on Earth — whether they bathe in acid baths or can get by on arsenic — will not convince me that life in places that have only ever known such conditions is likely*.
What do you think?
_____________________________________________________
* And I still wish the other bizarro over-the-top microbial life we have on Earth could get half the attention that one little otherwise-relatively-garden-variety bacterium that might be able to survive on a phosphate-free diet gets.